Five Tips for a Healthy and Happy Retirement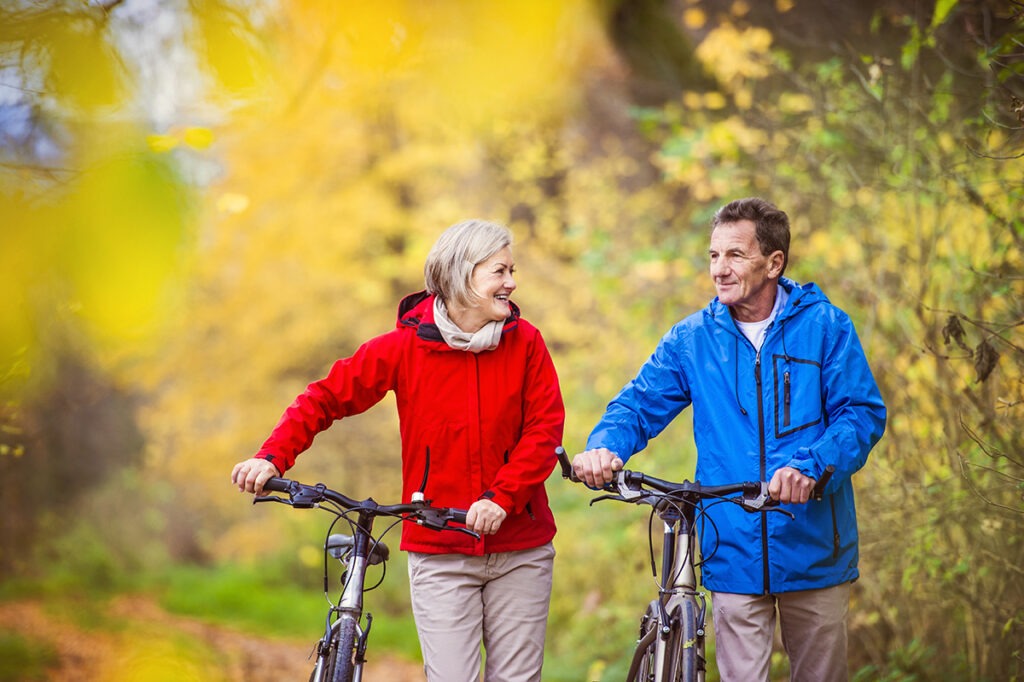 A dream retirement is about more than amassing wealth
Are you dreaming of your perfect retirement? It looks different for everyone, of course. For some people, a perfect retirement consists of a private Mediterranean villa and turquoise waters. For others, dreams of retirement conjure up images of family time and endless opportunities to finally tackle that exciting bucket list. For another segment of retirees, it's a dream to start a small business or devote many hours each week to volunteer efforts. One thing that is consistent among most retirees, however, is the idea that a happy retirement goes hand in hand with a large nest egg.
Though money is certainly an important part of retirement, it's not the only consideration for a happy retirement. After all, having a lot of cash doesn't guarantee good health or replace having a meaningful relationship. Of course, it's important to save appropriately so you're prepared for retirement, but be sure that you don't lose sight of other factors that help create a fulfilling life, too.
As you plan for and approach your dream retirement, keep these five aspects of a happy and healthy retirement in mind.
Plan beyond the money.
Determining the correct amount of money to save up for retirement can be difficult, and most people think that they should have the same amount of income in retirement as they are making when they retire. For example, if your job was paying you $100,000 annually, then you may be relying on having that same amount in retirement. However, some experts believe that matching your income is too high a threshold. For starters, you'll no longer have to be covering commuting costs, you won't have taxes going toward Social Security and Medicare, and you won't have to be putting a chunk of your paycheck into your retirement savings. Additionally, if you've paid off your mortgage by the time you retire, you'll be saving on housing costs, as well. Considering all of these cuts, planning for 80 to 85 percent of your annual earnings in retirement income could be plenty.
Though the fear of running out of money in retirement is valid and understandable, most people don't run out of money unless a huge family crisis or unexpected health issue arises. The key to making your money last is to make sure your lifestyle matches your budget. As you plan for your retirement, sit down and figure out how much you need to cover your bills, how much you typically spend on things you enjoy – such as concerts, dinners out, or traveling – and how much you believe you may need to cover the cost of healthcare.
Lastly, don't forget to focus on the little things. While the vacations and golfing at luxurious courses may seem like the most exciting parts of retirement, it's the little things that tend to get us up in the morning and excited about life. Walking your dog, enjoying coffee with the newspaper, and cooking dinner at home with your spouse – those are the moments that will make your retirement special.
---
SEE ALSO: Answer These Important Questions to Know When You are Retirement Ready
---
Prioritize your health.
We don't have the power to control our health long-term. In fact, much of our health comes down to our genetics. However, we can actively work to make sure that our health is as good as it can be for our unique situations.
Watching what you eat, exercising regularly, and staying away from life-threatening vices like tobacco can help ensure that your health stays in top shape. Though exercising isn't everyone's cup of tea, finding a sport or activity that you like can make it feel less like a burden and more like fun.
Prioritizing your health also includes considering your quality of care. If you're planning to move when you retire, make sure that you are relocating to a place that has a strong community of quality, accessible healthcare professionals. Should you need a hip replacement, you don't want to have to put all your trust in the only orthopedic surgeon in town.
Focus on the people.
If the pandemic reminded us of anything, it's that we're social creatures who need human interaction. Even if you like to be alone and value time to yourself, you also need time with loved ones every now and again. Studies show that adults with a strong social support system have a reduced risk of certain significant health problems such as depression, high blood pressure, or an unhealthy body mass index. Additionally, adults with a rich social life tend to live longer than those who are more isolated.
Hone your vision.
As with most big dreams, taking the time to clarify your retirement vision can have a significant impact on whether your dreams actually come true. Creating a vision board, writing out a list in a journal, or even talking about it with your spouse can help make the things that you're envisioning more tangible. Speaking truth to your dreams is a key part of making what you see in your head become your reality.
If you happen to be feeling nervous or anxious about retirement, talking about your vision can also help you understand why it is that you're feeling this way. Perhaps your vision for retirement is a negative one because of people you know who had poor retirement experiences. Discussing these things can help you get that negativity out in the air and then you'll be able to deal with it head-on.
---
SEE ALSO: How to Turn Your Dreams of Early Retirement into Reality
---
Find your purpose.
One of the most important keys to feeling fulfilled and happy in retirement is having a deep sense of why you are alive. Understanding that you have a reason for being, besides playing golf, reading books, or any other hobbies, is what will bring your retirement a deeper sense of enjoyment. After the initial excitement of retirement tapers off, many retirees tend to get bored and the risk of having an existential crisis looms large. Going into retirement with a sense of purpose and your own plan for how you'll make your life matter in this new phase should be a crucial part of your retirement planning.
Concluding Thoughts on Creating a Healthy and Happy Retirement
After years of dedicating your life to working and building a career for yourself, retirement can be an opportunity to bring you the freedom to do what you've always wanted to do but never could. It's a time for adventure, new discoveries, self-development, and relaxation. And while finances may seem like the biggest part of your retirement planning, there are multiple factors that go into creating a well-rounded, happy, and healthy retirement.
Here at Andersen Wealth Management, helping you bring your retirement dream to life is our main priority. If you would like to sit down with one of our professionals to review your retirement plans, please contact us today.